We have updated the calendar page with the upcoming academic meeting schedule. You can also export this schedule to your preferred calendar app (iCal, Outlook Thunderbird Lightening, Google Calendar, etc.) for your reference. If you wish to receive further event information from this meeting schedule please contact us.
on 2015-06-02 17:48:52
(
879 reads
)

The infrastructure of neuroinformatics databases used at J-Node Portal, XooNIps, has been replaced with Next Generation XooNIps. Next Generation XooNIps is still under development, while its outline is available at "Next Generation XooNIps", AINI 2014 Abstract RI-5.
on 2015-04-06 14:26:32
(
891 reads
)
on 2014-06-02 16:38:21
(
927 reads
)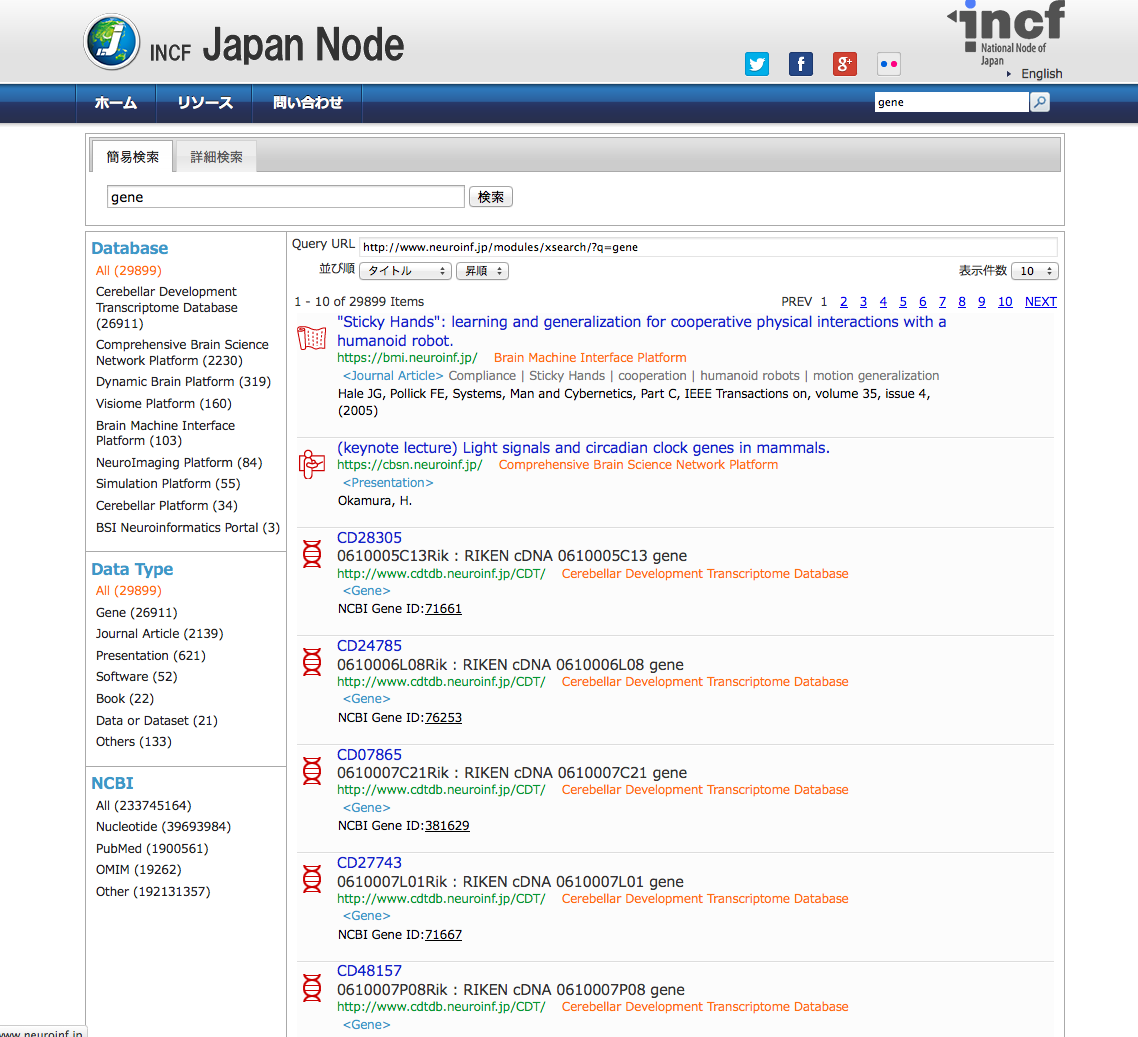 J-Node launched a cross-site searching system throughout databases on OAI-PMH based protocol. This allows you to find any data on J-Node's platforms from anywhere using metadata schema, Dublin Core, JuNii2, Gene Terms having title, creator, etc. So far, 12 repositories in J-Node with more than 60,000 contents and biomedical and genomic information in National Center for Biotechnology Information (NCBI) database are available through this system.
Click Quick search or Advanced search.
on 2014-04-28 13:16:13
(
1168 reads
)
Due to urgent security maintenance work, access to the INCF Japan Node Portal was suspended from Jan.31 19:00 to Feb.10 20:00, 2015. We are sorry for any inconvenience during this unplanned suspension. Thank you for your understanding.
System Administrator, Neuroinformatics Japan Center
Announced at Home Page on 2015.2.10 through 2.20
on 2014-02-10 20:00:00
(
711 reads
)