Dr.Mitsuo Kawato , a member of INCF Japan Node Committee, was awarded Japan's Purple Ribon Medal for his contribution to computational neuroscience. ...ATR website
on 2013-04-30 11:49:06
(
1221 reads
)
Inter-brain synchronization during coordination of speech rhythm in human-to-human social interaction was reported by RIKEN as Press Release on 2013/4/22. This research was conducted by Masahiro Kawasaki, Visiting Research Scientist of RIKEN BSI, Yoko Yamaguchi, NIJC Director and others. ...RIKEN Press Release
on 2013-04-22 11:46:50
(
1319 reads
)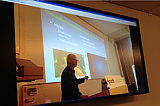 INCF Node Workshop was held on Apr. 15-16, 2013 at INCF Secretariat, Stockholm.
From Japan, two topics were reported: "How to build a successful Node, Japan " by Shiro USUI and "Japan Node Platforms: Integrative Environments for Tools, Databases and Models" in Demo Session by Y YAMAGUCHI, Y OKUMURA, S USUI.

Photo: Lecture by S USUI demonstrated in Slide Show at the INCF Secretariat.

on 2013-04-20 15:39:47
(
952 reads
)
on 2012-11-27 18:00:00
(
1294 reads
)
on 2012-11-10 18:00:00
(
1027 reads
)