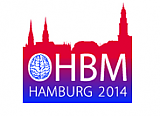 The 2014 HBM Hackathon (5-7 June 2014 in Germany) registration is open! This unique 3-day event will be held prior to annual meeting (8-12 June 2014) of the Organization for Human Brain Mapping (OHBM) at the legendary c-base, a decked-out collaborative art and technology space at the heart of the Berlin hacker community. In keeping with the spirit of prior neuroimaging hackathons such as OHBM 2013 and Brainhack 2012 and 2013, participants will have the opportunity to propose collaborative projects and engage in a number of open challenges.

For updated information on the developing Hackathon content, and to contribute your own ideas, check out here. Current projects include the Sage Alzheimer's Disease Challenge, cloud computing tutorials with NITRC-CE and Amazon Web Services, workshops on data-sharing and meta-analysis, and many others initiated by scientists from the brain imaging community. Participants engaged in the Alzheimer's Disease Challenge will have the unique opportunity to set an initial benchmark for a multi-phase effort to identify early accurate predictive biomarkers that can inform the scientific, industrial and regulatory communities about the disease.
Join this vibrant community and help build open neuroscience initiatives in one of the most unique tech venues in Berlin. To keep the collaborations flowing, meals and refreshments are all included in the registration costs and will be provided on-site, as well as $100+ in Amazon Web Service credits for your computational needs. Participation is limited, so we encourage you to register now. The spirit of the Hackathon will also be continuing into the OHBM meeting in Hamburg from 8-12 June 2014, where a collaboration space will be available in the conference venue. This space will be open to all OHBM attendees to discuss, present, and continue working on hackathon projects.