INCF Japan Node
About INCF Japan Node
The Japan Node of the INCF coordinates neuroinformatics activities within Japan and represents Japanese efforts in INCF.
RIKEN participated in INCF as a funding agency for the Japan Node in the period 2005-2019.3. Neuroinformatics Japan Center (2005 - 2018) , RIKEN Brain Science Institute and Neuroinformatics Unit (NIU) (2018-2019), Integrative Computational Brain Science Collaboration Center, RIKEN Center for Brain Science served as the secretariat of the Japan Node. Together with the Japan Node Committee and the Platform Subcommittees, J-Node promote domestic neuroinformatics activities within Japan. Platform Subcommittee members collaborated to develop databases that ared made available on the website.
The organization and collaborators' map of INCF Japan Node are shown in the left hand side.The activities of the Japan Node are as follows.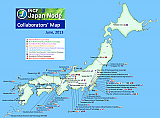 Shaping domestic neuroinformatics research and directions (Japan Node Committee)
Advising on intellectual property rights and protecting experimental subjects (Japan Node Committee)
Developing and publishing brain science databases (Platform Subcommittee)
Coordinating database management (Platform Subcommittee)
Disseminating neuroinformatics information via the web portal
Developing the infrastructure for brain science information and neuroinformatics
Supporting the development and spreading of neuroinformatics technology
 Visit the the page of Platform Committees for more details. Link
J-Node in FY2019 is to be organized by a research group for participation in INCF as an associative node.
Japan Node Committee (FY2017)
Members
Tadashi ISA, Dr. Graduate School of Medicine and Fuculty of medicine, Kyoto University
Shin ISHII, Dr. Graduate School of Informatics, Kyoto University
Kiyoto KASAI, Dr. Department of Neuropsychiatry, Graduate School of Medicine, The University of Tokyo
Akimichi KANEKO, Dr. Kio University
Yukiko GODA, Dr. RIKEN Brain Science Institute
Ryoji SUZUKI, Dr. Kanazawa Institute of Technology
Noboru SONEHARA, Dr. Colleage of Policy Studies, Tsuda University
Ken-ichi TANAKA, Dr. MITSUBISHI Electric Corporation
Tomoyuki HIGUCHI, Dr. The Institute of Statistical Mathematics, The Research Organization of Information and Systems
Senior Advisors
Shun-ichi AMARI, Dr. RIKEN Brain Science Institute
Keiji TANAKA, Dr. RIKEN Brain Science Institute
Shiro USUI, Dr. RIKEN Brain Science Institute
NIJC Steering Committee (FY2017)
Members
Akiko AIZAWA, Dr. National Institute of Informatics
Naonori UEDA, Dr. NTT Communications Science Laboratories
Ryohei KANZAKI, Dr. Research Center for Advanced Science and Technology, The University of Tokyo
Yasuharu KOIKE, Dr. Institute of Innovative research, Tokyo Institute of Technology
Yukiko GODA, Dr. RIKEN Brain Science Institute
Norihiro SADATO, Dr. National Institute for Physiological Sciences
Taishin NOMURA, Dr. Graduate School of Engineering Science, Osaka University
Teiichi FURUICHI, Dr. Faculty of Science and Technology, Tokyo University of Science
Tsuyoshi MIYAKAWA, Dr. Institute for Comprehensive Medical Science, Fujita Health University
Yoko YAMAGUCHI, Dr. RIKEN Brain Science Institute
Senior Advisor
Shiro USUI, Dr. RIKEN Brain Science Institute
Platform Coordinating Committee (FY2017)
Members
Yoko YAMAGUCHI, Dr. RIKEN Brain Science Institute    <Chair>
Shunji SATO, Dr. The University of Electro-Communications
Ryohei KANZAKI, Dr. Research Center for Advanced Science and Techonology, The University of Tokyo
Teiichi FURUICHI, Dr. Faculty of Science and Technology, Tokyo University of Science
Shinji KAKEI, Dr. Tokyo Metropolitan Institute of Medical Science
Tsuyoshi MIYAKAWA, Dr. Institute for Comprehensive Medical Science, Fujita Health University
Hideki KASHIOKA, Dr. National Institute of Information and Communications Technology
Hiroaki WAGATSUMA, Dr. Kyushu Institute of Technology
Hidetoshi IKENO, Dr. University of Hyogo
Yasunori HAYASHI, Dr. Kyoto University Graduate School of Medicine
Yuko Okamura-OHO, Dr. BReNt-Brain Research Network, Non-Profit
Taishin NOMURA, Dr.      Osaka University
Kozo KAIBUCHI, Dr.      Nagoya University
 Japan Node Education and Training Committee (FY2017)
Members
Ryoji SUZUKI (Chair) Kanazawa Institute of Technology
Yoko YAMAGUCHI RIKEN Brain Science Institute
Yoshimi KAMIYAMA Aichi Prefectural University
Shinya KURIKI Hokkaido University
Yoshihide TAMORI NeuroCreative Lab/ Artificial Mind Institute
Tadashi YAMAZAKI The University of Electro-Communications
Ryohei KANZAKI The University of Tokyo
Akira SATO Tokyo University of Science
Takeru HONDA Tokyo Metropolitan Institute of Medical Science
Keizo TAKAO University of Toyama
Shinji KONDO Joint support-Center for Data Science Research
Junichiro YOSHIMOTO Nara Institute of Science and Technology
Tomoyuki HIGUCHI The Institute of Statistical Mathematics
Tomoki KAZAWA The University of Tokyo
Hidetoshi IKENO University of Hyogo
Yukiko NOTA ATR-Promotion
INCF Japan Node Secretariat (FY2018)
Neuroinformatics Unit (NIU),
Integratice Computational Brain Science Collaboration Center,
RIKEN Center for Brain Science
2-1, Hirosawa, Wako, Saitama, 351-0198 JAPAN
---